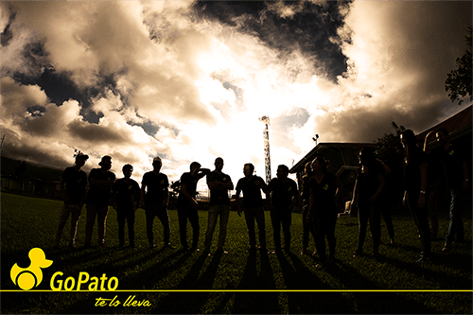 El pasado 5 de enero, GoPato cerró su primera ronda de inversión por un monto de $550K.
Carao Ventures, con su red de inversionistas y en conjunto con inversionistas cercanos a la firma, asumió el total de esta Ronda Semilla en la compañía. La firma de venture capital, junto con los socios fundadores de GoPato, ya había invertido un monto de $100K en la empresa durante el proceso de aceleración de GoPato en el 2016.
GoPato es un startup costarricense que provee un asistente personal para satisfacer la demanda de servicios de mensajería, antojos, compras, diligencias y demás mandados en cuestión de minutos, a través de su canal de chat automático en Facebook Messenger o vía GoPato App (disponible para iPhone y Android). Durante un año, la empresa ha visto un crecimiento exponencial en órdenes solicitadas y con esta nueva ronda se espera que la compañía robustezca su plataforma tecnológica y continúe el crecimiento acelerado ofreciendo cada vez una mejor experiencia al usuario.
"Hemos podido comprobar que la gente está interesada y dispuesta a delegar quehaceres con el fin de invertir ese tiempo en actividades que valoran más. Ahora en GoPato queremos potenciar esta idea dándole al cliente una plataforma tecnológica robusta y simple de usar, complementada de más alianzas y ofertas con compañías." Explica Lionel Peralta, co-fundador de GoPato.
---
Carao Ventures leads investment in a $550K Seed Round in GoPato
On January 5th, GoPato closed its first round of financing, raising a total amount of $550K.
Carao Ventures led the round taking the total commitment with its investor network and other invited investors close to the firm. The venture capital firm, along with the founders of GoPato, had previously invested $100K in the company during the acceleration process in 2016.
GoPato is a Costa Rican startup that provides its customers with a immediate delivery service and errand outsourcing. Using their Facebook Messenger Bot or the Beta GoPato APP, customers can outsource everyday chores such a simple messenger services, ordering food or groceries, shop from retail stores or any other task that requires physical presence of logistics. Over the past year, the company has experienced accelerated growth in its daily orders and users. The funds will be used to strengthen their tech platform and fuel continued growth.
"We've been able to prove that people are interested and ready to delegate non-essential tasks, to instead invest that time in more value-add activities - from family to work. At GoPato, we want to inculcate this idea, by providing the customer with a more powerful and easy-to-use tech platform, and offering clients better retail and consumer solutions." - Lionel Peralta, co-founder of GoPato.